Mazda Miata Maintenance & Performance
PBC Automotive has extensive knowledge and experience to help you with all your Mazda Miata needs. We have been servicing and repairing Mazda Miatas on a daily basis for over 11 years and counting. Please contact us to service your Mazda Miata today, you will be happy you did.
Our Mazda Miata Specialists can help you with:
Factory schedule tune-ups
Timing belt package
Super chargers and turbos
Full suspension work (shock springs, swaybars)
Diagnostic work (check engine lights and electrical problem diagnosis)
Engine and transmission swaps, clutches, shifter boots, sifter bushings
Install stock brake parts as well as performance parts (upgraded pads and rotors, stainless steel brake lines)
Four-wheel alignments (stock and performance)
The Little Enchilada Project
PBC specializes in Mazda Miatta. One of the most popular upgrades for a Miatta is "The Little Enchilada", provided by Flyin' Miatta. We sell and professionally install this awesome performance upgrade.
If you want to take your stock Mazdaspeed up to right around 200 hp at the wheels, you'll follow the first four suggestions in our recommended upgrade path. We`ve taken these parts and bundled them together for you - and then cut the price by $250 so you not only get a suite of products designed to work together, you also save money!
The Little Enchilada package includes the following:
FM intake
High-performance intake for Mazdaspeed MX-5
The stock Mazdaspeed is strangled by its intake. We started pulling parts out of our car and found that we obtained the best results by changing everything right up to the turbocharger. We also changed the compressor outlet pipe. With the intake, a good exhaust system and our throttle body inlet pipe, a number of customers have reported 200 horsepower at the rear wheels - that`s 33% more than stock! Even more impressive is the gain in torque.
The factory boost control gets very confused when a low-restriction intake is installed, leading to a massive boost spike at 5000 rpm. It looks good for peak power but it`s not very friendly to drive. It can also lead to a hard boost cut from the stock computer. So we added a manual boost controller to our intake that lets you set the boost where you want it. There`s a big gain all across the powerband and no embarrassing boost cuts.
The piping is polished stainless steel with all the fittings required. A signal line for the boost control is included at the compressor outlet for more precise control than the stock location. The large air filter is positioned up near the firewall to keep it away from hot intercooler pipes and other sources of underhood heat. Includes silicone hoses and clamps.
Available for cars with stock ECUs or in a no-MAF version for cars with aftermarket ECUs such as the Hydra Nemesis (shown). The no-MAF version does not have a fitting for a bypass valve. If you are planning to upgrade in the future, install the stock ECU version now. The MAF can be replaced with a short length of pipe or silicone hose when a Hydra is installed. Not CARB approved.
Please note that this component is really intended to be installed as part of our complete intake kit. We strongly recommend you install the complete kit. If you do want to install just this intake, some adapters will be needed in order to complete the plumbing to the stock bypass valve.
FM throttle body inlet pipe
No items on this section.
Recirculating Turbosmart bypass valve
Turbosmart Kompact Bypass valve
This little bypass valve is a tiny, lightweight little thing - great for packaging into tight spaces. But it`s a quality unit that seals better than anything else we`ve tried. It`s also quieter than most valves. We`ve tested it at up to 15 psi on a GT3071.
Custom made for Flyin` Miata! 1 3/8" inlet and 3/4" outlet with all-metal construction. Included in all new FM turbo kits and Mazdaspeed complete intake kits. Includes 3 feet of 3/4" hose for hook up. Please note, this is not compatible with a Mazdaspeed Miata using a stock throttle body inlet pipe.
FM O2 signal modifier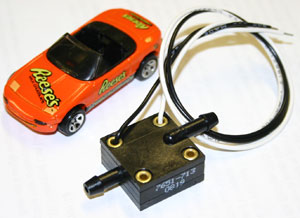 A stock ECU can pull over 30% of its fuel if it thinks the engine is running rich. The actual amount depends on the model of car. This is a problem when you have a boosted car and you`re trying to deliver more fuel. At best, this means poor driveability until the computer goes into open loop mode. At worst, it can have catastrophic and expensive results. The signal modifier prevents the ECU from seeing a rich condition under boost. Simple installation and no effects when the car is not generating boost. Actually, we recently redesigned it for better reliability, easier installation and a smaller footprint!
A popular addition to cars equipped with Powercard fuel management as this solves a characteristic lean mixture at part throttle. Not needed for the Voodoo Box.
Also very useful for Mazdaspeed MX-5 turbo cars with aftermarket intakes. This helps solve a characteristic hesitation problem that appears when the car spools up faster than stock.
Intended for use only with stock ECU. Not required for cars with full replacement ECUs such as our 1990-97 Link or the Hydra Nemesis. If you have a "narrowband" A/F meter that uses the stock O2 sensor, it will read incorrectly when you are in boost - well, more so than usual. Sorry, the little baby Miata is not included.
FM downpipe
Downpipe/catalytic converter for Mazdaspeed MX-5
Replace the restrictive and heavy downpipe on your Mazdaspeed with this 2.5" stainless steel version. When combined with our Mazdaspeed exhaust, it offers noticeably faster spoolup and a good increase in power. We measured a 23 hp and 26 lb-ft increase on our dyno. If Mazda had delivered the car like this from the factory there would be a lot less interest in aftermarket upgrades! An extremely popular upgrade for Mazdaspeeds.
Beautifully made out of stainless steel with polished flanges, this is a long-lived upgrade. So long that we offer it with a lifetime warranty. It`s also 7.2 lbs lighter than stock as an extra bonus.
Not CARB approved, not compatible with other Miata models other than the Mazdaspeed MX-5. This exhaust system will pass a tailpipe sniffer test, but if the technician is able to spot it tucked up under the car it will fail the visual inspection in California. The heatshield on the catalytic converter is not polished. 5 yr/50,000 mile warranty on the catalytic converter body, the internals (and ability to pass an emissions test) are covered for 25,000 miles, everything else is covered for life.
FM midpipe and exhaust
Midpipe and exhaust upgrade for Mazdaspeed MX-5
Exclusive to Flyin` Miata and designed specifically for the Mazdaspeed MX-5, this exhaust will improve spoolup and support higher boost levels when paired with our downpipe. We measured a 23 hp and 26 lb-ft increase on our dyno. A handmade muffler allows the exhaust note to be a little deeper and a little louder, but still well behaved. It`s the sound the car should have had from the factory! It`s also the performance the car should have had from the factory, really.
Adding the exhaust system alone will allow the car to reach peak power 300 rpm sooner than stock and will save 6.5 lbs. Why did we not use the standard Mazda flange locations? Because we found that this design gave better performance and less noise. It`s also easier to build.
For Mazdaspeed MX-5 only, not compatible with any other models. Legal in all states, including California. Legal for Solo II in stock class.
The FM midpipe flange and the factory downpipe flange use a different gasket in order to seal the exhaust system. We are aware the seal is not perfect and we found the best seal can be obtained by using the factory donut gasket. This imperfect seal will not be an issue with a Flyin` Miata downpipe. Lifetime warranty. 2.5" piping, 3" polished tip.
FM intercooler
Intercooler upgrade for Mazdaspeed MX-5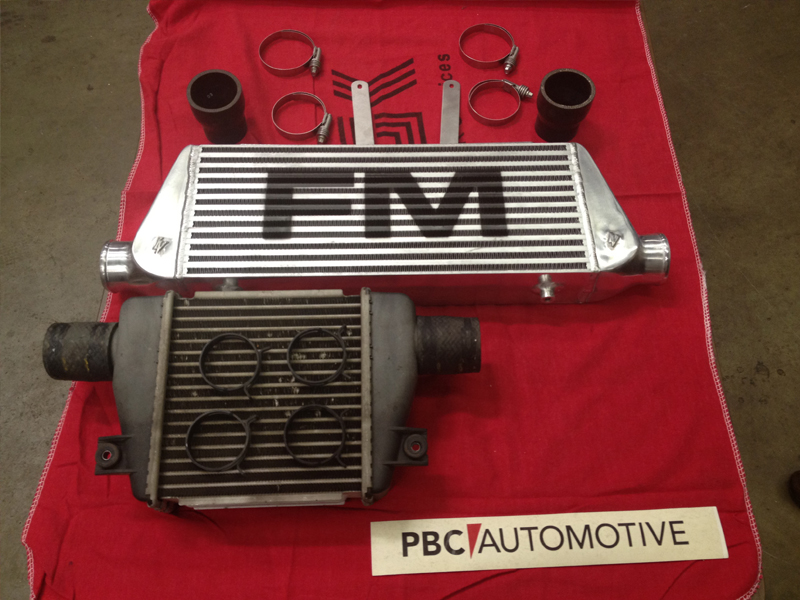 Freshly redesigned! We were proud of our old intercooler, but this new one is more friendly. Installation is simpler and offers a bit more adjustability.
While you won't get higher boost simply from installing this intercooler, you will get lower intake temperatures. This will allow the Mazdaspeed's ECU to be a little more aggressive with timing and make a little more power. It will also be useful when you turn up the boost and start making more power - and more intake heat. The new intercooler core measures 19" x 8" x 3". The stock one (shown here for comparison) is 8.5" x 8.5" x 2.5" - the new one has 2.5 times the volume.
Easy installation using the stock Mazdaspeed piping. A short section (4" on the inlet, 6.75" on the outlet) needs to be cut off the stock pipes. The kit includes upgraded hose clamps and the same high-quality "grippy" silicone hose used in all the FM turbo kits. The intercooler can be mounted to either display or hide the FM logo.
We're using this same intercooler in our turbo kits for "normal" Miatas. This means we can buy in greater volume and lower the cost to you.
Check valve
MSM check valve kit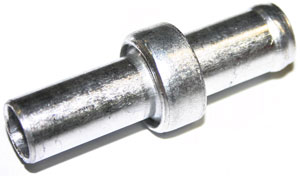 The stock Mazdaspeed oil separator is a good idea, but not a great execution. Under hard driving, oil can actually work its way up through the drain tube and enter the intake. This means a lot of oil consumption and an increased risk of detonation as well as carbon buildup in your engine. A lot of Mazdaspeed owners have removed the separator, but now there`s a better option.
This check valve goes in the drain line and allows oil to drain back into the pan - as Mazda intended - but prevents it from going the wrong way. The valve has a very light opening pressure to keep the oil from backing up in the drain hose and is designed to work with higher temperatures and oil. Includes all hardware, easy 30 minute installation.
Boost Gauge (Default: silver face; just added to kit)
2 1/16" boost gauge
If you order an FM turbo kit, this is the gauge that comes with it. We use Autometer gauges because they`re reliable and because it allows us to offer a wide range of gauges with matching faces. If you want to monitor various pressures or temperatures or even install a cute little clock, it`ll all look good. The 2 1/16" design fits into our gauge pods or even into the "eyeball vents" on the dash. Maximum of 20 psi of boost - if you need a 30 psi gauge, let us know.
The black gauge is from the Sport-Comp II series while the silver is Ultra-Lite II. Both have LED back lighting. Black fits most Miatas. Silver is a nice match to a Mazdaspeed, although the lighting color is different than stock.
Single gauge pod (just added to kit)
2003-05 single gauge pod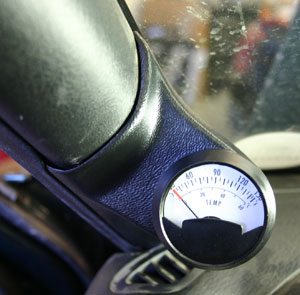 Did you know that the shape of the A-pillar changed in 2003? Neither do most gauge pod manufacturers, which means that their fit was often unacceptable. Not in this case.
These pods fit better than we`ve ever seen before and are a good match to the Miata interior. Put a gauge right where you can see it! For 2 1/16" gauges, often called 2" gauges. Includes push-on fasteners (not shown) that are more subtle than the usual screws. Double-sided tape would be a nice fastening technique as well but is not included.
The pod in the picture (a 1999 model) is not attached to the a-pillar at all so the gap to the pillar is a little larger than usual. The blue color is a reflection, not an indication of a different color. We`re trying to get better pictures.